FITNESS TIP
•
Emily Skye
How to motivate yourself to work out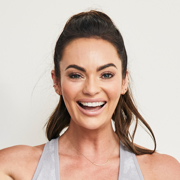 Are you feeling motivated to work out today? That's amazing, and you should make the most of it! But if there's one thing I've learned, it's that motivation doesn't stick around. To get results, you need to be able to train, eat well and prioritise your wellbeing even when you don't feel like it.
If you've been searching for tips on how to motivate yourself to work out, I'm here to share my experience. So many women have told me they wish they had my motivation, or have asked me how to get motivation to exercise. The truth is, there are plenty of days where I don't feel like doing all the things I know are good for my body.
News flash: you have to create motivation. Every single day, you have to get up and decide that you want this. You have to train because you want to feel fitter, or happier, or stronger – whatever your goal is, you have to remind yourself of it every single time.
It has taken time to get to where I am today, but I am SO PROUD of my strong, incredible body – then and now. I felt like giving up many times, but I I kept telling myself "I can do it, I am strong, I am capable and I am worthy".
If you're new to fitness or just returning to training, starting out is the hardest. But I promise it does get easier. If you keep at it, doing a little bit every day, before you know it you'll start feeling amazing. And that gives you the motivation to continue! You want more of that feeling and you won't want to stop. That's exactly where I am now.
Are you ready to join me here? If you're a beginner, take a look at my tips to start working out. I've got the perfect program for you, too: FIT Foundations is a dedicated beginners' workout program that will help you start small, learn the basics, and build a fitness routine.
Now let's get moving with my top tips on creating and sustaining motivation.
1. Stick with the plan
Have you got a workout plan, or are you still hoping that spontaneous inspiration will lift you off the couch and into the gym? Creating a structure by scheduling your workouts is proven to keep you coming back for more – but it has to be a schedule that will fit your lifestyle. It may not be reasonable to try and exercise every single day, but can you find three 30-minute blocks each week to dedicate to your fitness? Suddenly it seems a whole lot easier to stick with, doesn't it?
Knowing how much and what to do can be overwhelming, but my FIT app does all the hard work for you! Once you set your goal, your workouts and meals for the week are laid out in the planner. The challenge of a short-term program is a great way to build a training habit – and FIT Foundations is the perfect program to get you started. It's a realistic training schedule for even the busiest lifestyle, with 30-minute workouts 3 days each week, then building up to 4.
And I know it's easy to fall out of a training habit when you're not feeling your best. No matter what life throws at you, I'll help you keep moving with flexible Made to FIT workouts designed to suit your mood, energy levels and strength.
Got your structure planned out? Great. Now it's time to set yourself up for workout success with a bit of mental and logistical prep.
The Emily Skye FIT app delivers your workout schedule in an easy-to-follow format.
How to motivate yourself to exercise at home: If you can, set up a space where you keep your workout mat and equipment, plus a towel, ready to go. Wait, have you got a killer pump-up playlist lined up? Great, now your mind and space are ready, here's an equipment-free home booty workout to get you started.
How to motivate yourself to exercise at the gym: Figure out which equipment you will need to use before you get there. On my FIT workouts, you'll see a list of the equipment required when you click into a session. If you get overwhelmed in the gym, opt for a workout that uses just a few pieces of equipment. (Use the filters on FIT to search for a session that suits!) I know gyms have a reputation for being intimidating, but really they're not! Most people there are also figuring it all out, and focused on themselves, not watching you. Ask the staff for help if you need it – that's what they're paid to do.
2. Treat yourself on the regular
This tip doesn't just work for me, it's backed by science! A huge study in the US on how to find motivation to work out concluded that one of the best ways to get yourself into a consistent exercise routine is to reward yourself in small ways when you get it done. For instance, every time you smash a workout, drop a dollar into a cup: 2, 3 or 6 months later, you'll have a mountain of cash to treat yourself to whatever is sitting in your online shopping basket.
It doesn't have to be cash or a big splash. After consistently working out all week, you could treat yourself to brunch with the girls. About to start a 6-week program like my Booty Challenge on FIT? When you smash the final session, vow to get your butt away on that camping trip you've been hanging out for. Hit your goal of completing three workouts in a week? Whip up your favourite smoothie. You've earned it!
3. Remember, your goal starts here
Think about where you want to be in terms of your health. Do you want to be stronger? Perhaps you need to lose body fat and improve your heart health? Or maybe your goal is to carve out some much needed 'you' time to avoid stress and burnout.
I know there are legit excuses for why you may not be able to start right away, or you can't do certain types of exercise. I get it! Whatever your goal, I always encourage my members to take rest days and follow a realistic and sustainable training and meal plan. But if you know deep down that you're just making excuses (I've done the same thing many times) you need to take control.
Build a sustainable fitness habit with FIT Foundations, my realistic program for absolute beginners.
The only thing that will get you to your goals is YOU. The changes you make don't have to be drastic, but there will have to be some changes if you want to achieve your health and fitness goals.
4. Buddy up
If you're struggling with how to motivate yourself to work out alone, the answer is simple: don't! Sharing your fitness journey with an accountability partner or training buddy is proven to improve your workout consistency and make you look forward to your workouts.
All the support and accountability you need are waiting for you in the amazing FIT community. I love seeing my FIT members in this exclusive community cheering each other on, challenging each other, asking questions, sharing their progress and genuinely connecting. When you feel that support behind you, it's a whole lot easier to keep pushing – and a whole lot more fun.
5. Stop looking for motivation
The burst of motivation that kick starts your fitness journey is a beautiful thing – but what got you out of bed yesterday may not work tomorrow. This is the point many people give up. But you have another power to draw on: discipline!
Discipline is what gets you out of bed when it's still cold and dark, and what gets you to the gym when you'd rather be home watching TV. It's also what gets results! Think about it like this: every single day you have to get up and decide what to wear. Fitness isn't so different. You're just making a decision to be healthier and happier. Motivation will come and go, discipline and building a habit are what will get you to your goals.
Next time you're searching "how to motivate myself to work out", remember that YOU need to create the motivation. With these tips and a FREE trial at emilyskyefit.com to get you started, you'll be unstoppable in no time!
Emily Skye
Personal trainer • Founder
Emily Skye is a strength training expert and the face of FIT, the digital fitness app that helps women worldwide build strength and confidence, stay active through pregnancy and rebuild post-pregnancy. Emily holds a Certificate IV in Fitness and Master Trainer qualification from the Australian Institute of Fitness. She is also co-founder of James Cosmetics and a mother of two.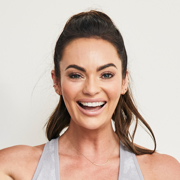 Start your FIT journey with your first 14 days free.
Get results you can see and confidence you can feel with internationally renowned trainer Emily Skye.