FITNESS TIP
•
Emily Skye
The best beginner workouts for women with Emily Skye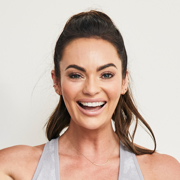 When it comes to exercise, taking the first step is often the hardest part. All those weights, all that workout lingo… It can be confusing and intimidating! But I'm on a mission to make it easy with the perfect beginner workout (or three) to get you moving.
I believe that workout routines for beginners should help you to feel empowered as you learn new skills, build confidence and get results! That's why I have created dedicated exercise for beginners programs, which you can start any time with your free trial on FIT.
FIT Foundations, a 6-week program for total beginners that strips away all the barriers to fitness.

Start Strong, a 4-week at-home program that will help you master the basics of strength training.

To get you started, I've unlocked 3 FREE workouts from these FIT programs that you can do at home with just a few simple pieces of exercise equipment. I'll help you prepare and set up your exercise routine, then lead you through a beginner cardio workout (also known as a HIIT session), a beginner leg workout, and your first taste of training with weights – like a beginner gym workout without the gym!

I know you can do this! And I'll be with you all the way, coaching you through each workout with form tips and encouragement. Before we get started, let's take a look at the equipment you're going to need.

Best exercise equipment for beginners

You don't need an entire gym's worth of equipment to nail the best workout for beginners at home. When you're setting up a workout routine, beginner equipment is as simple as:

Dumbbells

Kettlebell

Exercise mat

A chair (or bench)

How long should beginners work out for?

What does a good beginner exercise routine look like? Don't overdo it. As your fitness and endurance grows, you'll be able to push for more – but as a beginner, stick to 3-5 days per week.

To make it even easier for you, I've done all the hard work of scheduling workouts for you – including active rest and recovery days – in both of my beginner programs. In FIT Foundations, I'll get you started with 3 workout days each week. In Start Strong, we'll learn the basics of strength training by working out 5 days per week.

Start Strong: Your beginner strength workout

Working out with weights is a great way to burn fat, increase stamina, improve heart health, and build a lean and defined body. This 30-minute beginner strength workout from Start Strong is designed to build power in your lower body (legs, glutes and posterior chain), while boosting your confidence with this style of training.
Click here to start your beginner strength workout.
FIT Foundations: Your beginner at-home workout
I know gyms can seem intimidating when you're new to exercise, that's why I'm here to help you get started at home! This workout from FIT Foundations is built around simple exercises you can do at home. We'll kick off your journey to full-body fitness by targeting your lower-body to build strength and burn fat. All you need is a chair, and a willingness to have some fun!
Click here to start your home workout for beginners.
FIT Foundations: Your beginner HIIT workout
HIIT (high-intensity interval training) is a super effective way to burn fat and improve aerobic fitness, and anyone at any fitness level can do it. Even better, it's a fast and fun style of training that gets great results without having to spend hours in the gym. I'll lead you through one of my favourite full-body low-impact HIIT workouts from FIT Foundations. The only equipment you need is a chair!
Emily Skye
Personal trainer • Founder
Emily Skye is a strength training expert and the face of FIT, the digital fitness app that helps women worldwide build strength and confidence, stay active through pregnancy and rebuild post-pregnancy. Emily holds a Certificate IV in Fitness and Master Trainer qualification from the Australian Institute of Fitness. She is also co-founder of James Cosmetics and a mother of two.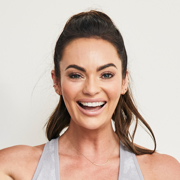 Start your FIT journey with your first 14 days free.
Get results you can see and confidence you can feel with internationally renowned trainer Emily Skye.