Emily Skye
FIT Pregnancy: your first-trimester exercise plan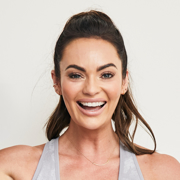 Welcome to your first trimester of pregnancy exercise!
Consider this guide your FIT Pregnancy handbook – a guide to my Emily Skye FIT Pregnancy exercise program. It is essential reading before you start, and a resource you can return to at any time during the program. If you like what you see, start your free trial today to unlock the best pregnancy workouts, dietitian-approved pregnancy meal plan and expert pregnancy advice.
My FIT Pregnancy Trimester 1 program covers weeks 5-12 of pregnancy (you can calculate which week of pregnancy you are in by counting from the first day of your last period).
Your first trimester is a great opportunity to set a movement habit and routine with pregnancy workouts at home. You're going to have a lot to do in preparation for your baby's arrival, so make it a priority to carve out time so you continue to stay active throughout your pregnancy.
Movement is only going to get harder as your pregnancy progresses, so it's important to keep up your strength and stamina during these early weeks. Exercising doesn't just help improve your mood and sleep when you're pregnant, it can also ward off nausea, ease back pain, and prime you for delivery and looking after your precious new baby!
An important reminder: you should not start FIT Pregnancy if you have not participated in exercise regularly prior to becoming pregnant – this program is not designed for beginners. It's a big no to extreme forms of exercise right now, too: no contact sports, downhill skiing, MMA, marathons, and so on.
Always consult your healthcare professional before beginning any new exercise program, as there are some situations where exercise may not be advised. This information should be used as a guide only and should not replace the advice of your medical practitioner.
Please read my important Safety message before commencing this program. Full details in the Privacy Policy and Terms & Conditions.
Now, are you ready to reap the benefits of staying active and healthy with a FIT Pregnancy? Let's break down everything you need to know about the program.
Setting your pregnancy workout goals
You can work out with me on FIT Pregnancy at two different intensity levels, selected when you first click into the program:
Low Intensity – for a lower intensity option depending on how you're feeling (tiredness, weakness, nausea, etc).
Active & Strong – if you're continuing to feel fit and well.
You can change your level at any time if you feel like you can give more, or would like less of a challenge.
Remember that your workout intensity should not increase when you're pregnant, and this is not the time to try anything new (like lifting weights for the first time) or to aim for personal bests.
Your non-pregnancy goals (such as burning fat or gaining strength) also need to change when you're pregnant – No.1 is staying healthy and safe for yourself and bub.
Must read: safe fitness goals for pregnant women
Exercises in the first trimester
I've created FIT Pregnancy in collaboration with a team of experts (including a pre- & postnatal physiotherapist and dietitian) to keep you exercising safely and feeling your best through all three trimesters.
Trimester 1 covers weeks 5-12 of your pregnancy – you should start at the week that correlates with the stage of pregnancy you are up to (e.g. if you're 7 weeks pregnant, start at week 7 instead of the first week of the program). Be sure to check the weekly info before you hit play on a workout, just to make sure you're in the right place. In Trimester 1, we'll be doing:
4 workout sessions per week

Modified/low-impact HIIT, resistance and weight training

At-home workouts, talking you through every move.
The workouts will repeat after the first 4 weeks – doing familiar workouts helps you know what to expect, so you can take it at your pace, listen to your body and monitor any changes.
The only equipment you need is a mat, bench, resistance band, kettlebell and dumbbells. We'll also be making use of things you have around the house including sofa cushions, a chair and (if you don't have a bench) a low step. Always have your water bottle handy during workouts, too!
Pregnancy workout nutrition
Your energy needs will grow along with your baby, so good nutrition during this time is critical. You need to stay well hydrated, too.
Before starting the program, go into your FIT settings and make sure your goal is set to Stay Active During Pregnancy. The meal plan for this goal is balanced for nutrition and will provide the base to support your pregnancy needs. And I have plenty of healthy and delicious snacks to meet your increased needs.
Must read: FIT Pregnancy Nutrition Manual
Pregnancy workout safety
There are a few very important things you need to know before exercising – starting with getting the all-clear from your doctor.
I've designed the workouts to ensure we avoid:
crunches and other exercises performed lying on your back, which can restrict blood flow to the heart by placing pressure on the vena cava

high-intensity movements or overworking one body part will result in increased blood flow, which can cause overheating, dizziness, and blood pooling in limbs or joints

core/abdominal exercises which can worsen diastasis recti.
For all of these reasons, your warm-ups and cool-downs are especially important during pregnancy – so no skipping them!
Make sure you're across all aspects of your safety before you go any further.
Must read:
5 things you must know before working out while pregnant
What you need to know about diastasis recti
7 reasons to warm up and cool down during pregnancy workouts
How to safely lift weights when you're pregnant
Always listen to your body
I can't emphasize how important it is to know when NOT to exercise and when to stop during a workout. You should always stop and rest when you feel pain, discomfort, dizziness, or light-headedness, and seek medical attention straight away for any more serious conditions. Make sure you're aware of the signs and ready to take action.
Must read: Warning signs you should stop exercising when pregnant
Why you need to do Kegels
Kegels are a series of clench-and-release exercises you can do at any time to make your pelvic floor stronger – and this is never more important than in your final months of pregnancy! Be sure to take a minute to understand why they're so important and how to do them.
Must watch: How to do Kegels (and why you definitely should)
Thank you for trusting me to join you on this journey. Becoming a mum changed my life completely, so whether this is your first time or you're a seasoned pro, congratulations! I'll see you at training.
Emily Skye
Personal trainer • Founder
Emily Skye is a strength training expert and the face of FIT, the digital fitness app that helps women worldwide build strength and confidence, stay active through pregnancy and rebuild post-pregnancy. Emily holds a Certificate IV in Fitness and Master Trainer qualification from the Australian Institute of Fitness. She is also co-founder of James Cosmetics and a mother of two.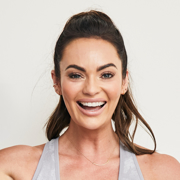 Start your FIT journey with your first 7 days free.
Get results you can see and confidence you can feel with internationally renowned trainer Emily Skye.