Emily Skye
Your journey back to fitness starts with FIT Post-Pregnancy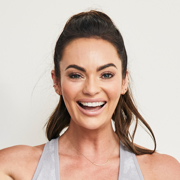 Becoming a mother is incredible, but pregnancy and giving birth demands a lot from your body. Rebuilding and returning to fitness is a journey.
Your journey starts with FIT Post-Pregnancy – my new program available now only on Emily Skye FIT.
No matter how active you were during your pregnancy, across three separate 6-week program stages in this postpartum program, I'll help you start to heal with Stage 1 – Recover, go from strength to strength with Stage 2 – Progress, then up the intensity and finish strong with Stage 3 – Rebuild. And you can take it all at YOUR pace.
So many new mothers have asked me for a specialised post-pregnancy program over the years. Now I'm super proud to say that FIT is the health and fitness app that's right for EVERY woman at EVERY stage of her life – from strength training for beginners to pregnant mamas-to-be, postpartum mothers, and experienced exercisers looking for a new challenge.
Just like FIT Pregnancy (which helps you stay active and strong through each trimester), this new program has been created with your safety as my No.1 priority. It's so important not to rush your postpartum recovery. You should only start FIT Post-Pregnancy when you have had your 6-10 week check up and received clearance from your doctor. This is especially important if you have a pre-existing condition or are recovering from a C-section.
Reminder: Always consult your doctor before beginning any new exercise program, as there are some situations where exercise may not be advised.
Who is FIT Post-Pregnancy for?
FIT Post-Pregnancy is for postpartum women who are at least 6-10 weeks post-giving birth, have received clearance from their doctor and are ready to start regaining their strength and fitness to be the best mama they can be.
Designed in collaboration with FIT women's health physiotherapist Phoebe Armfield, this is the same training that helped me recover and return to fitness after my babies. In fact, everything you will see in this program is REAL – I was recovering from the birth of my baby boy when we captured the workouts and, yes, that is my postpartum body! I'll be with you all the way.
If you're already partway into your postpartum recovery, that's okay! With three different stages, you can begin Post-Pregnancy at the point that is right for you – based on when you gave birth, how active you have been, and getting clearance from your doctor.
How does the program work?
There are three separate 6-week stages in FIT Post-Pregnancy, designed to help you gently recover, progress and rebuild at your own pace.
Stage 1 – Recover: Once you've had your 6-10 week check-up and clearance from your doctor, we'll embark on a workout program for healing and recovery using gentle strength, mobility and stability movements.

Stage 2 – Progress: You're ready to do a bit more, so we'll slowly up the intensity and use light weights for full-body low-impact strength workouts.

Stage 3 – Rebuild: As your body regains strength, we'll lift the tempo with low-impact HIIT-style cardio and a more diverse range of strength movements.
How do I know when I'm ready to move on?
The minimum time frames AFTER giving birth when you should consider beginning each stage of the program are:
Stage 1 – Starting from 6-10 weeks (only after your check-up)

Stage 2 – Starting from 12-16 weeks

Stage 3 – Starting from 18-22 weeks
While the three stages add up to an overall program of 18 weeks, there is no rush to complete FIT Post-Pregnancy in this time frame. You can repeat stages until you're ready and confident to move on. To help you know if you're ready, we'll provide you a checklist to complete after each stage.
Do I need equipment?
To get started with Stage 1, all you will need are things you already have around the house like a chair, pillows and a towel. As the program progresses, you'll need dumbbells, a kettlebell, a low step, and a theraband.
What results will I get?
This is NOT a weight loss program. The focus of FIT Post-Pregnancy is on:
regaining strength and mobility

slowly increasing cardio endurance

rebuilding pelvic floor and core/abdominal strength

getting you ready to take on other FIT programs, regular FIT planner workouts, and your favourite sporting activities.
There is a lot of pressure on women to "bounce back" or get "back in shape" quickly after giving birth. But I'm here to tell you there are no expectations and no time limits. Your body is freakin' amazing. I want to help you focus on how it feels and what it does, rather than how it looks.
I want this program to be a safe space for you – with my FIT team, we'll also cover issues around your mental wellbeing, like body image, self-esteem, and coming to terms with physical and fitness changes.
If you're ready to recover from the birth of your baby, or you're looking ahead to what happens AFTER your baby arrives, there's only one place to go… Your journey with FIT Post-Pregnancy starts today.
Join me at emilyskyefit.com now to get started.
Emily Skye
Personal trainer • Founder
Emily Skye is a strength training expert and the face of FIT, the digital fitness app that helps women worldwide build strength and confidence, stay active through pregnancy and rebuild post-pregnancy. Emily holds a Certificate IV in Fitness and Master Trainer qualification from the Australian Institute of Fitness. She is also co-founder of James Cosmetics and a mother of two.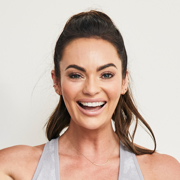 Start your FIT journey with your first 14 days free.
Get results you can see and confidence you can feel with internationally renowned trainer Emily Skye.