PREGNANCY TIP
•
Emily Skye
How I learned to love my pregnant body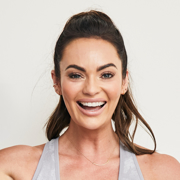 Pregnancy is a beautiful thing, but wow, it can be really hard too. When you have body image issues to start with, the number of changes that come with pregnancy, and how quickly they happen, can be overwhelming.
But you know what? I'm actually really grateful for everything my two pregnancies have taught me.
I've always struggled with never feeling "good enough" – not fit enough, not lean enough, not muscly enough... But having a baby changed my opinion of myself and especially my body. I've never in my life loved my body more. Instead of criticising it and picking out every little flaw, I'm amazed by and proud of what it can do.
To help you embrace your journey, I want to pass on what I've learned by sharing my tips for maintaining a positive body image during pregnancy.
Don't compare your journey to others
Just like our bodies, our fitness journeys and our lives, every pregnancy is different! Comparing your size, how you look or how you feel to another woman is a trap. You need to stay focused on your own journey.
Of course, you can be curious about other women's experiences and have a laugh with a girlfriend when you contrast the size of your belly/boobies/ankles – just don't let it steal your joy!
You may find it funny coming from me, but I feel lazy when I see women who keep up intense training when they're pregnant! Some days I don't feel up to it, so I just do some stretches and breathing exercises to at least keep moving. And you know what? That's okay. I know not to compare my pregnancy journey to anyone else's. The only thing that matters is that my baby and I are both healthy.
Remember to celebrate your body for the incredible things it's doing for your growing baby.
Focus on what your body does, not how it looks
When you're used to looking and feeling a certain way, it can be hard to appreciate the changes your body goes through during pregnancy. Try not to think of things like weight gain and stretch marks as a negative – this is exactly what your body is meant to do to nourish and accommodate a growing little human!
I took a photo in the mirror after giving birth to my baby boy because I was in awe of what my body had done. Seriously, ladies, how AMAZING is the female body? We rock!
Embrace the incredible changes your body is going through to grow, birth and feed your child, and show it the respect it deserves. Stay active to keep yourself physically and mentally strong. Focus on eating healthy food to keep your energy levels up. And of course, talk to your doctor if any changes don't feel quite right.
Be curious
Those amazing changes I've been talking about? If you don't know why something is happening, ask your doctor or look it up. Understanding what makes up pregnancy weight gain, why your hair is thinner, or what that 'glow' is all about will help you be less judgmental and more inspired by the things your body is capable of.
Be grateful for your growing family
Do you feel excited but nervous, overjoyed but kind of stressed? I'm not surprised you're a big ball of feelings! There is a LOT going on during pregnancy.
Try to redirect any negative thoughts into positive action – consider it your maternal instinct kicking in. Worried about not being ready? Pack your hospital bag. Don't know a thing about car seats? Do some research online.
The big picture here is your growing family. Be grateful for it. I don't feel good when I'm pregnant – I get exhausted, I'm nauseous on and off, I don't feel motivated, bits of me hurt! My husband has to put up with a LOT of whingeing. But I keep reminding myself to be grateful because I am blessed to carry my child.
Perspective is everything. Remind yourself of all the good things you have and lean on the support of your partner, family, friends and your medical team. They're all here to help you through this strange and wonderful time.
Emily Skye
Personal trainer • Founder
Emily Skye is a strength training expert and the face of FIT, the digital fitness app that helps women worldwide build strength and confidence, stay active through pregnancy and rebuild post-pregnancy. Emily holds a Certificate IV in Fitness and Master Trainer qualification from the Australian Institute of Fitness. She is also co-founder of James Cosmetics and a mother of two.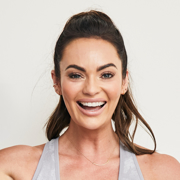 Start your FIT journey with your first 7 days free.
Get results you can see and confidence you can feel with internationally renowned trainer Emily Skye.