Emily Skye
What could you achieve with Emily Skye FIT?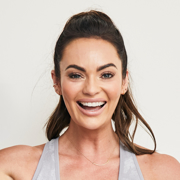 The lemon detox. Vibrating belts. Low cal diets... Trust me, I've seen ALL the fads, and it's time to blow them all up.
Real, lasting results require the real deal. That's why Emily Skye FIT is 100% fad-free. My program is designed to get you that sculpted body, lean muscle and strength you're dreaming of with proven effective workouts targeting your glutes, legs, core, arms, full body and cardio, plus healthy meal plans made with real food (not lemon juice and magic pills!).
So if you're done with the fads and you're ready to get FIT for life, I'm ready to get you real results. If you need a little motivation, take it from these real FIT members – dumping the quick fixes can be life-changing.
"IT WILL HAPPEN – YOU JUST HAVE TO BE CONSISTENT!"
Two years ago, Christine Tusborg Petersen felt depressed and insecure and didn't have a healthy relationship with her body or with food. With FIT, she's discovered the difference a few small changes and a lot of consistency can make.
"To anyone feeling deflated or doubtful that you will ever see results, just trust the process! It will happen – you just have to be consistent!
I work out consistently 5 days a week, and I hit legs 3 out of those 5 days. That has been the key factor for me this whole time. And it's not just being consistent with workouts, but also with what you eat, how much sleep you get and how much water you drink.
When you make these adjustments to your life, you start creating balance, which in return makes you a happier person... that was the case for me at least! I'm proud of how far I've come."
"IF I'M THERE, I'M MAKING IT COUNT"
Ever had one of those days where you're feeling good, until you catch sight of yourself in a shop window? Yvonne Lawrie has. While she would have loved a quick fix (wouldn't we all!), FIT helped her realise she had the power to make fit happen.
"This is for the ladies who have a few lbs to lose – to show it can be done. I'm 46, 5ft tall and weigh 9st 9lb (61kg) now; I was nearly 13st (82kg) in the first picture. I've done a few fitness plans over the years and I'm seeing results already with Emily Skye FIT only 3 weeks in. I do the home workouts at the gym. which I find challenging.
But for me, it has to be 80% diet – I've had times where I've been going to the gym daily, but not seeing results because my diet wasn't the best. Now I focus on following the FIT food plan and having a balance (I had Chinese last night). I also drink water all day. I would not get my results at the gym if I wasn't doing this. My motto is if I'm there, I'm making it count. Plus the FIT community is amazing. I've never seen a negative comment."
"IT'S NOT A QUICK FIX, IT'S A LIFESTYLE"
With FIT, Natalie Fisher hasn't just built a toned body, she's found her voice.
"What I love about Emily Skye FIT is that it's not a quick fix, it's a lifestyle. I normally get bored and move on to something else, but it's not like any other program. The workouts are so varied and week by week they get more challenging. And Emily's post-baby body is enough motivation to kick anyone's ass!
I am still not the 'perfect' body, but this is the happiest I have felt in myself since forever. Even when I was young and being slim wasn't hard work, I wasn't as toned or as fit as I am now. Emily's app has not only helped me physically but mentally. For me it's not just about the workout, it's about how positive and great I feel after each one. I can go into a workout feeling s--- and come out feeling great. Feeling better in myself has also given me more confidence – following Emily has helped me become more vocal on social media which I never would of done a year ago. Joining FIT has changed my life in so many positive ways."
"I'M FEELING STRONGER EVERY DAY"
Yessenia Guevara isn't a numbers person. She doesn't spend her time tracking calories or worrying about the scales, she simply does her FIT workouts at home, follows the meal plan, goes hiking on the weekends, enjoys the process... and lets the results take care of themselves.
"I started this program In January 2018 and every day I feel a little bit happier with what I see in the mirror. I'm feeling stronger and healthier every day."
"LOVE MY PROGRESS"
Dawn Boyd worked hard to lose 20kg (45lb) and lower her body fat by 17%. But she wanted something more – and she found it in FIT.
"I wasn't as defined and lean as I wanted. I joined Emily's program in 2018 and am finally getting results. I'm now 51 and have never felt better. I actually have baby abs... LOL!"
"I HAVE DEFINITION IN MY ARMS I NEVER HAD BEFORE"
For Rachel Stelling, FIT has been a learning curve. Now she's determined to pass those lessons onto her four gorgeous daughters.
"A year ago, I had two sugars in my tea and I thought I knew what a healthy diet was – but this program encouraged me to do a sports nutrition course and boy were my eyes opened about what is or isn't good for you! I've been following Emily's program for nearly two years and this lifestyle is now a habit. If it was a struggle like it was in the beginning, honestly I would no longer do it – but with small changes and a love for weights, you can do it! Keep going, guys!
I love doing leg and bum workouts, but have also noticed definition in my arms that I never had before. My two older girls really try to be strong and healthy, too and I hope they follow this through to later life when we know how tough people can be. Love the program."
Emily Skye
Personal trainer • Founder
Emily Skye is a strength training expert and the face of FIT, the digital fitness app that helps women worldwide build strength and confidence, stay active through pregnancy and rebuild post-pregnancy. Emily holds a Certificate IV in Fitness and Master Trainer qualification from the Australian Institute of Fitness. She is also co-founder of James Cosmetics and a mother of two.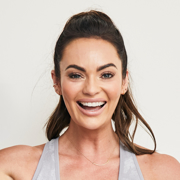 Start your FIT journey with your first 7 days free.
Get results you can see and confidence you can feel with internationally renowned trainer Emily Skye.