Emily Skye
Why goal setting is the real secret to fat loss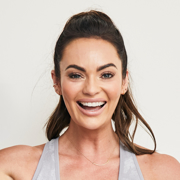 Body transformations don't happen overnight, but they do happen! And when it comes to losing body fat (and keeping it off) FIT gives you the tools, specialised programs and targeted workouts to burn that fat and build lean muscle definition and strength.
However, it takes more than just getting sweaty and eating well to overhaul your physique – you need to set goals. Goal-setting is the difference between fitness success and failure, and now is the most important time to get it right. Ready to transform your body? Here's how to set goals you'll actually achieve:
1. Have a clear-cut goal – even if it's a big one
There's nothing wrong with dreaming big. Visualise what you ultimately want and think about WHY you want it, even if it seems out of reach right now.
Knowing exactly what you're aiming for and the reason you want it so badly will push, motivate and inspire you. Trust me, when you're struggling through a challenging workout, the WHY will get you to the finish line.
2. Break your goal into smaller, measurable steps
Change takes time – especially sustainable change. So, if you're new to exercise, dropping a whole dress size in a month might not be realistic.
Breaking your main goal into smaller milestones will help you stay focused and on track. For example, start by using light weights and slowly build up your strength and endurance. Have a piece of clothing you'd like to fit into, and try it on every few weeks. Give yourself realistic and achievable timelines, and reward yourself when you reach these smaller goals.
Also, don't let the bathroom scale success dictate your success. They can be unreliable and your body may fluctuate as it loses fat and gains muscle.
3. Spend a little time planning
Want to know a little secret? Planning reduces failure.
Each week, plan when and where you'll do your workouts – put them in a diary (if need be) and block that time out. The same goes for meal prep. Keep a few hours spare each week so you can go grocery shopping, plan your meals and make healthy snacks.
Pop that workout into the calendar!


4. Make it concrete: write it down, tell someone about it
Turn a thought or goal into action by writing it down. Whether you type it or physically write it, seeing your goals on paper will force you to clarify exactly what you want. Also, telling people your goals will make you feel accountable for achieving them.
If you're not sure who to tell, share your goal in the FIT community – my members will keep you motivated and excited.
5. Be consistent and trust the process
Every day doesn't have to be perfect; you just need to be consistent. Commit to eating well and working out, even if it's uncomfortable or you feel silly (if you're new to being sweaty and red-faced at the gym, it takes some getting used to).
Allow yourself a treat every now and then, put yourself first and be patient. Just stick with it, and each day you'll get a bit better at it, and increase your fat-burning muscle.
Emily Skye
Personal trainer • Founder
Emily Skye is a strength training expert and the face of FIT, the digital fitness app that helps women worldwide build strength and confidence, stay active through pregnancy and rebuild post-pregnancy. Emily holds a Certificate IV in Fitness and Master Trainer qualification from the Australian Institute of Fitness. She is also co-founder of James Cosmetics and a mother of two.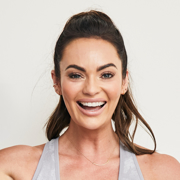 Start your FIT journey with your first 7 days free.
Get results you can see and confidence you can feel with internationally renowned trainer Emily Skye.