Emily Skye
Join my booty challenge!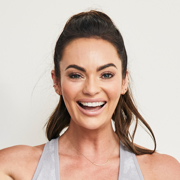 It's your No.1 body goal. And my No.1 goal is to help you make it happen.
Our mission: Get that peach you've always wanted.
How are we gonna do it? Two words: BOOTY CHALLENGE!
My six-week Emily Skye FIT Booty Challenge is designed to grow your glutes and power up all your body and fitness goals.
No tricks, no gimmicks – I'll show you how to get real, lasting results for a peach that kicks butt. This is the challenge you've been waiting for.
My Booty Challenge mission
In just 6 weeks, we're going to sculpt, shape, firm, tone, and grow that booty. Boom!
Remember, your "glutes" aren't just one curvy muscle, they're made up of three main muscles: gluteus maximus (those cheeks), gluteus medius (at the top of your butt) and gluteus minimus (at the sides, towards your hips). We're going to hit them all – and burn away fat – to build that well-rounded peach.
Target: Glutes
You'll find my Booty Challenge in the Programs section alongside my other challenges and specialized programs. The Booty Challenge is designed to boost your glutes with targeted lower-body workouts while getting you all-over strong.
And the best bit? You don't need a gym – my Booty Challenge can be completed from the comfort of your own home.
Equipment? Ideally, you will have access to dumbbells, barbells, kettlebells, a Swiss ball and sliding plates, but if your home gym isn't that well equipped, no stress! Check out my list of gym equipment you didn't realise you already own.
What about butt-building nutrition? My FIT meal plans make fuelling your booty goals easy. Simple, tasty recipes, packed with muscle-building protein and perfectly balanced throughout the week so you're never left with low energy in the middle of a workout.
Looking good, feeling powerful
A booty that turns heads is great, but our butt and thighs are truly the source of our power, ladies! Strong glutes give us explosive power for both resistance and plyo exercises, and help us move faster, improving athletic performance. And because the glutes are such a big muscle group, getting them strong won't just drive our workouts, it will keep our bodies burning calories long after we've finished.
Butt seriously
Working on your booty doesn't just get you strong, it helps KEEP you strong. Along with your hamstrings and the muscles around your spine, glutes form part of your posterior chain – getting this chain strong will stabilise your hips and protect your lower back and knees from injury. While targeting your glutes, you're also engaging your core, which gives your back another layer of protection. Working your lower body also builds bone density, which is incredibly important for women as we grow older.
No ifs, ands or butts: this Booty Challenge is a posterior power-up with full-body benefits.
Booty bonus
In this digital world (especially while we're social distancing) too many of us spend most of our days sitting on our butts – which is not great for our posture. A strong booty pulls our body upright, drawing our hips back and supporting our core.
Emily Skye
Personal trainer • Founder
Emily Skye is a strength training expert and the face of FIT, the digital fitness app that helps women worldwide build strength and confidence, stay active through pregnancy and rebuild post-pregnancy. Emily holds a Certificate IV in Fitness and Master Trainer qualification from the Australian Institute of Fitness. She is also co-founder of James Cosmetics and a mother of two.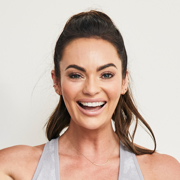 Start your FIT journey with your first 14 days free.
Get results you can see and confidence you can feel with internationally renowned trainer Emily Skye.